Embrace Life's Sweetness with Rich Whip Whipped Topping!
Embrace life's sweetness with Rich Whip® Topping. The light texture and rich taste makes Rich Whip a delightful finishing touch for any dish, dessert or pastry.
Rich Whip Comes In Three Convenient Varieties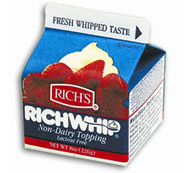 Ready-to-Whip Carton
This tasty choice can be poured and whipped in minutes. It is delicious when combined with any stir-in flavor and won't break down or curdle.
Available in 8 oz.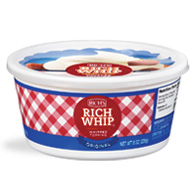 Original Pre-Whipped Bowl Topping
Offering the same great taste as Ready-to-Whip, Rich Whip bowl topping comes ready to serve for added ease and convenience.
Available in 8 oz. and 16 oz.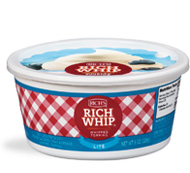 Lite Pre-Whipped Bowl Topping
The same delicious taste and convenience as original Rich Whip bowl topping, but with fewer calories and fat.
Available in 8 oz.
Uses
Rich Whip makes it simple to cherish the delicious moments in life. Use as a topping for desserts or fruit, as a filling for pies or pastries or even to create your own mousse. It is ready to be incorporated into everyday favorite recipes.
Rich Whip is perfect to have on-hand for any occasion. Keep frozen until ready to use, thaw and enjoy! It stays fresh in the refrigerator for up to two weeks.
To find Rich Whip at a store near you, visit our product locator.
Frequently Asked Questions
Q: How long does Rich Whip stay fresh in the refrigerator?
A: Rich Whip® bowl topping and Ready-to-Whip will stay fresh for up to two weeks in the refrigerator.
Q: What are the ingredients and nutritional information for Rich Whip?
A: Click on the variety below to download a PDF of the nutritional information:
Q: Once I thaw Rich Whip Bowl Topping, may it be refrozen?
A: Yes. This will not affect the safety or flavor of the product.
Q: Once I thaw Rich Whip Ready to Whip Topping, may it be refrozen?
A: No. Refreezing Rich Whip will prevent the product from being whipped.
Q: Does Rich Whip include Potassium or Phosphorus in any of the varieties?
A: Yes, both Potassium and Phosphorous are found in Rich Whip®. There are 0.62 mg of Phosphorous per 100 g and 0.16 mg of Potassium per 100 g.
Q: Is there Iodine in Rich Whip?
A: No: non-iodized salt is used.
Q: How many cups of whipped topping will the Rich Whip Liquid make?
A: The 8 oz. carton of Rich Whip will yield approximately 3 cups of whipped topping.